ROBOTS
THAT
ADAPT
TO CHANGE
Automate the processing of variable products, with robots that constantly adapt to part or task changes.
Designed to safely reprogram industrial robots from CAD models, sensor measurements or any other data source, the HAL Robotics Framework enables automation of high-mix, high-complexity tasks.
truly flexible manufacturing
variation is the new standard
Whether you're automating manual tasks, or starting to offer more product customisation and specialisation to your clients, having production equipment which adapts to variability is critical.
From contract manufacturing aerospace components, to sanding made-to-order cabinets, or engraving musical instruments with a customer's name, production flexibility is a necessity.
By interpreting data to generate robot instructions rather than using manual, offline, or teach-and-repeat programming, the HAL Robotics Framework is built from the ground up to handle product and process variation.
safe, predictable execution
from error-checked generated procedures to native robot code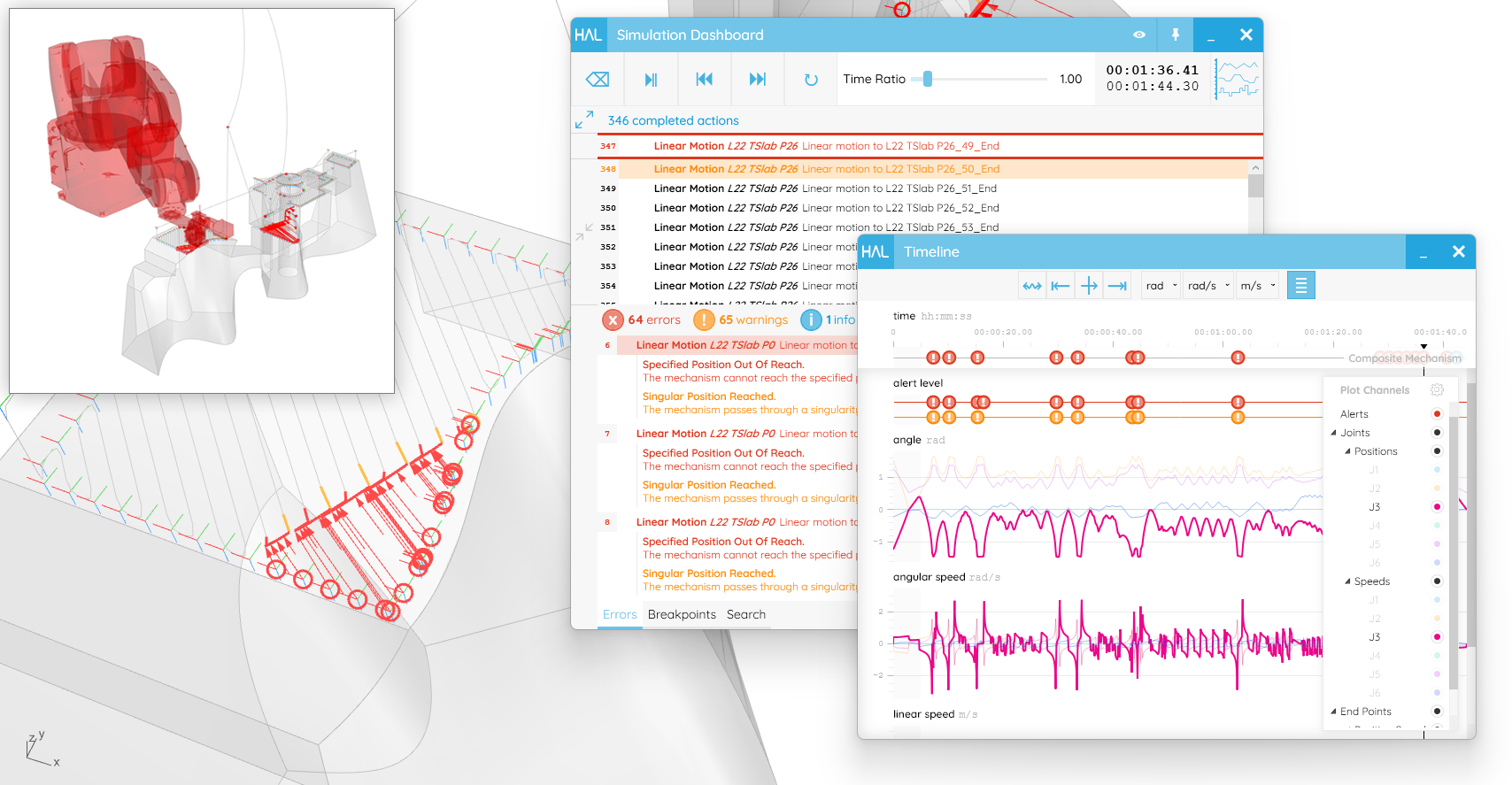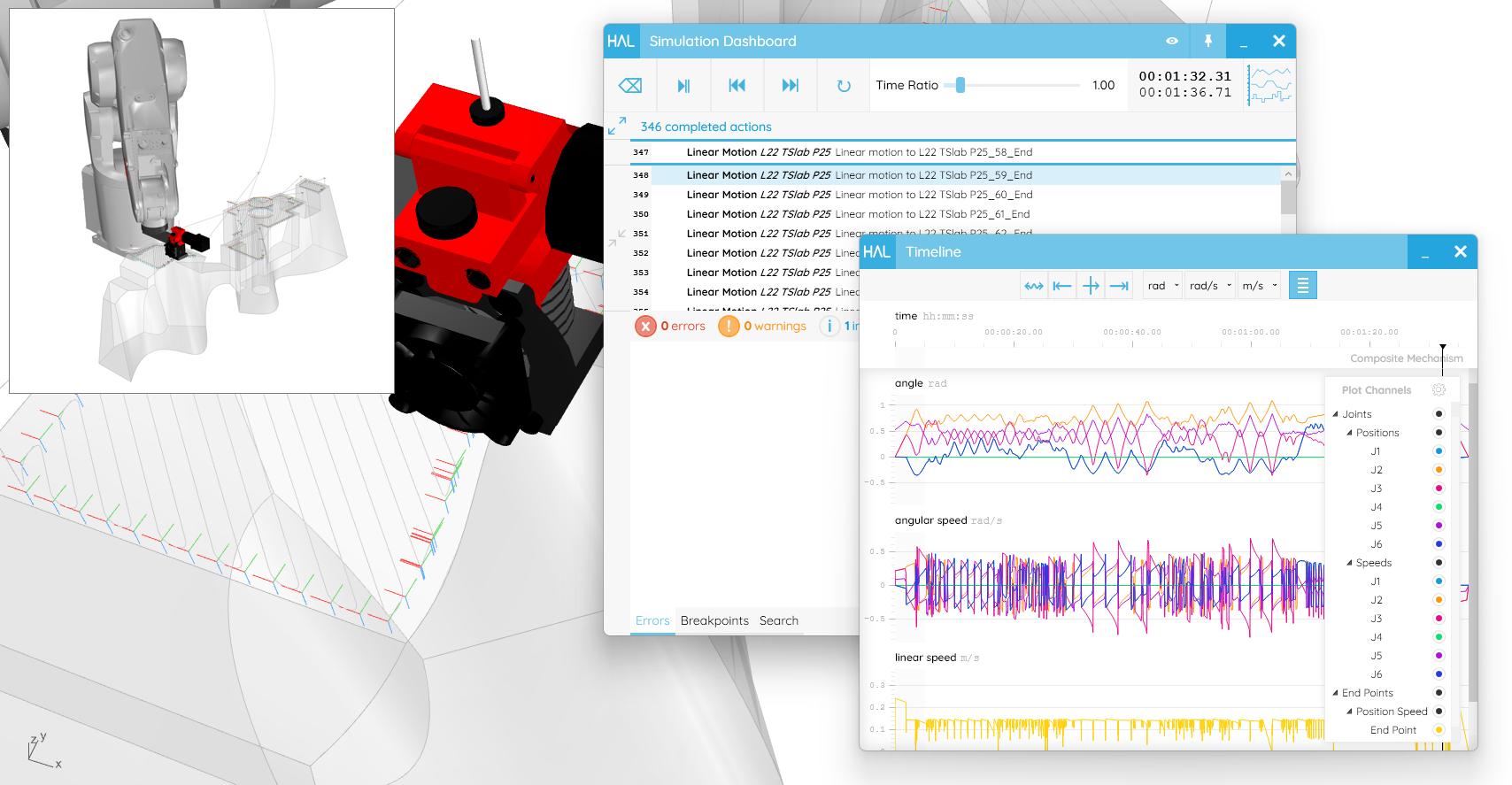 When a robot's job is changing frequently, you need complete confidence that it's always going to work safely and without errors.
The HAL Robotics Framework uses a digital twin to simulate and validate procedures before the robot starts. This can run automatically or with human supervision, and uses measured data to ensure the most accurate model possible.
Validated procedures are translated to native robot code to retain all the functionality of your certified safety systems.
always compatible
program any robots, for any processes, on any parts
Whether a robot is welding, cutting, or 3D printing, a HAL Robotics Framework procedure ensures that the robot is in the right place at the right time with the right settings.
Every procedure is vendor-agnostic, so it can be exported to any of the hundreds of supported robots and positioners. The Framework can also simulate multi-robot cells and combinations of robots, regardless of their brand or size. Ever wanted to use a Universal Robot on an Omron AGV, or mount an ABB cobot on the end of a KUKA? Now you can.
adapt to change
with
the HAL Robotics Framework
software module
portable software services to add robot programming wherever you need it
ideal for connecting your robots to your IT infrastructure, on-premises, on the edge or in the cloud
full-featured framework, for adaptive robot programming from any data source

Industry 4.0 enabler

adds robotics to your data pipelines

generate toolpaths
validate

robot behaviour

export

native robot code

monitor

and process sensor data
bespoke user interface
intuitive, tailored UI to reprogram your robots and manage production changes
ideal for operators, engineers and designers who shouldn't have to "speak robot" to get their job done
full-featured framework, for adaptive robot programming from any data source

intuitive, role-based UX, suited to users' responsibilities and workflows

interactive 3D display and rich UI

merge design and fabrication workflows within the same software to optimise products and manufacturing processes

visualise simulation and monitored data through your cell's digital twin
prototyping platform
develop your robotic application PoCs within McNeel Rhinoceros & Grasshopper
ideal for early stage R&D, when experimenting and iterating quickly are key to success
no-code visual scripting interface

hundreds of robot presets

create your own robot cell with custom end-effectors and positioners

create your own toolpath strategy

simulate and validate procedures